AC Drives and Servo Drives
PT. Meshindo Jayatama is an official distributor of Yaskawa inverters that has been around for more than 10 years.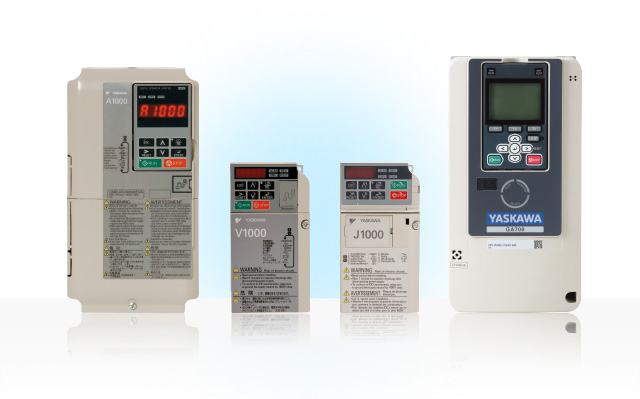 Founded in 1915, Yaskawa is a leading global manufacturer of motors, inverter drives, SERVO drives, machine controllers, medium voltage inverters and industrial robots including our pioneering MOTOMAN robot. Keen foresight and entrepreneurial courage through a century of business operations have helped us maintain a competitive advantage in product innovation and market entry into emerging markets in South East Asia – such as Singapore, Vietnam, Thailand and Indonesia.
Back to top ▴
A1000
The A1000 is a full featured drive, providing outstanding quality, performance, flexibility, and environmental friendliness through 1000HP. Enjoy network communications, feedback, and expandable I/O to control anything from simple fans and pumps to complex machines. For new installations or retrofits, the A1000 provides a single robust solution, regardless of your application.
View Details
Back to top ▴
CR700
Our new CR700 was developed to further optimize cranes based on the concepts of Flexible, Easy, Sustainable. Yaskawa can now deliver the most ideal "answers" for various tasks related to the operation of cranes, including brake sequences that have evolved from the technologies we have developed to date.
By revolutionizing your facilities and machines, the CR700 will increase productivity, save energy efficiently, reduce total costs, with enhanced environmental compatibilities.
View Details
Back to top ▴
GA700
Yaskawa's GA700 Series offers the best value proposition for industrial applications. The GA700 is the right choice with a compact, flexible, straightforward design by integrating and embedding key AC drive attributes focused on optimized installation and minimized start-up.
View Details
Back to top ▴
Varispeed G7
In consideration of the different usage environments throughout the world, this inverter boasts high levels of both performance and operability, and stands ready to meet the most stringent technological demands. For the first time, 3-level control has been incorporated in 400-V class, general-purpose inverters to solve the problem of micro-surge voltages. It can be used in existing motors.
View Details
Back to top ▴
J1000
So easy to use: just switch it on and you're ready to go. J1000 is fully capable of efficient performance and energy saving, handling variable speed needs in compact applications. A drive that exemplifies true world quality with a difference you can really feel.
View Details
Back to top ▴
R1000
The power regenerative unit has braking and regenerative functions that returns load-energy to the power supply.
Use with an AC drive demonstrates superior energy-saving capability in applications with high minus loads such as with cranes and vertical transport lifters.
View Details
Back to top ▴
U1000
Yaskawa's development of the world's first application of matrix converter technology in 2006 made it possible to solve AC drive problems. Further evolution of this technology has resulted in the U1000.
This sophisticated series of motor drives available only from Yaskawa eliminates the problems of standard AC drives.
The U1000 tops the performance of general-purpose AC drives to further improve the performance of your facilities.
View Details
Back to top ▴
V1000
Yaskawa has built a reputation for high performance, functionality, quality, and reliability. To make it even easier to optimize your applications, we present the new V1000.
View Details
Back to top ▴
∑-7 Series
Sigma-7 products set a new industry standard in servo capability, with features that advance Yaskawa's 25-year reputation for redefining the possibilities in motion automation.
View Details
Back to top ▴
∑-5 Series
Our broad range of servos can be matched with single-axis or multi-axis machine controllers for a system solution with the highest quality and reliability in the business.
View Details
Back to top ▴